Hello! Long time no blog!
Last week was my nephew's 4th birthday and this year he wanted a robot themed party. Of course he also wanted cake pops too! So my sister and I were inspired by robot cake pops we found on Bakerella and created our own.
First, I baked a chocolate cake from scratch and whipped up a batch of chocolate buttercream for the pops. Once the cake and frosting was mashed together, I shaped it into little squares and chilled.
The next day my sister and I got to work decorating our robots! Here's the candy we used:
candy eyes from Wilton
Smarties for the "ears"
a mini marshmallow cut in half for the top
rainbow fruit strip candy that we cut into little rectangles for the mouth
It took some time to assemble each robot but once we got going, it went pretty fast. Since it was a kid's party, with some small toddlers too, we decided to wrap each cake pop so they could take it home as a favor.
It was a great party and I'm going to share more pics because the kids did the cutest robot craft. More to come!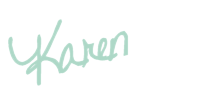 Keep Up With Karen's Soiree