Happy Friday! Today we're taking a short break from the holidays with a birthday post! It turns out that mine and Krystal's birthday are exactly a week apart! (She celebrates hers this Saturday and mine is next!) So isn't it fitting to share our ideas on throwing a Classy Birthday Party.
I chose to feature an elegant yet super fun sit down dinner. It's a party I always dream about hosting. An intimate group of friends sitting around the dinner table, eating delicious food, drinking, and sharing a bunch of laughs. The decor I chose looks fancy but it's actually really affordable, in fact the invitation is free!
Want Soirees & Sangria?
Karen
&a Krystal share party ideas weekly (and twice weekly during the holidays!) that inspire and showcase unique cocktails and entertaining ideas.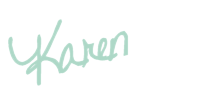 Keep Up With Karen's Soiree