Hi All!
It's kind of been a slow blogging week over here, content wise. I've been working on some things for my daughter's birthday party coming up in September. I will definitely share the details soon!
Yesterday was my
SITS Day
, which was beyond awesome! So grateful for all the wonderful people who came over and checked out my blog!
Today I'm linking up with my friend Penny again over at
The Real Housewife of Caroline County
to play a little Friday Q & A. Be sure to check out Penny's page too for the questions that I asked
her
.
Here are the questions she sent to me to answer:
1. If you could steal one thing without consequence what would it be?
This is easy, I'm obsessed with pocketbooks so it would be a classic, black quilted Chanel bag. It's my dream pocketbook.
2. What's your horoscope sign and do you read about it or believe in it? Does it describe you?
I'm a Sagittarius and I do believe that the sign does fit my personality. But I don't check my horoscope everyday.
3. Do you like roller coasters?
I used to love roller coasters but now that I'm older, I just can't ride them anymore. Now they make me sick! I haven't been on one in years! I remember riding roller coasters over and over at Six Flags Great Adventure.
4. What got you into party planning? Have you always loved it or did it just happen?
I've always LOVED party planning! I used to do corporate event planning and would always help my family and friends with parties. Now that I'm a stay at home mom, I love to blog about all things parties and entertaining. It's just a love of mine! I'm taking it a bit further soon with an Etsy shop featuring my custom party signs!
5. What's your favorite type of accent and why?
My favorite accent is a British accent. I guess because it sounds so formal and London is on my list of cities I dream about traveling to.
6. What's it like with kids and living in New York City? Is it hard to get around?
I actually live in Long Island with my husband and daughter. Before I got married, I did live in New York City on the Upper East Side for several years. I loved it!! It was one of the best experiences of my life and I hope my daughter lives there one day.
7. What's your most expensive article of clothing (jewelry doesn't count)?
Right now my wardrobe is pretty lackluster. I think the most expensive article of clothing I own is a pair of Seven jeans I bought years ago. I find that I tend to buy things for my daughter now instead of myself. Need to start breaking this habit!!
8. Do you style your kids or do they pick what they wear? What's their style?
I just have one daughter who is a toddler so right now I pick out what she wears. She has a big personality so I'm sure she is going to want to pick out her own clothes soon! I'm kind of dreading the wardrobe battles. Right now she does love wearing T-shirts or dresses with either Hello Kitty or Minnie Mouse on them.
9. How did you and your hubby meet?
I feel like I've been with my husband so long that it's like a lifetime ago that we met. We started dating in January or February of 2005 and we were engaged by that August. We are very similar and we knew right away that we wanted to get married.
10. Who was the last person your texted and what did it say?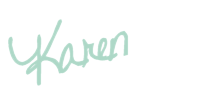 Keep Up With Karen's Soiree