When I was growing up my mother always made sure I sent out thank you notes after every party. Whether it was my birthday or a graduation and up until my baby shower, she always asked if I did my "thank you's" yet. This is something that I want to pass on to my daughter as she gets older too. No email or text, just a simple handwritten thank you note. Of course, it helps if you have a cute thank you card set to motivate you to start writing.
One of my favorite online stationery sites,
Sugar Paper, Los Angeles
, has an amazing selection of thank you cards. I love how they're modern with a little bit of whimsy at the same time. Anyone would just love receiving one of these in their mail box!
What's your Thank You style?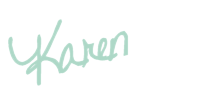 Keep Up With Karen's Soiree