I love meeting new blogger friends! It's so much fun to chat and get to know the person behind the blog better. So I was really happy to participate in a Nail Polish & Card Swap put together by the lovely
Mrs AOK, a Work in Progress
. The idea was to mail out a card and nail polish (under $10) to brighten up someone's day. Who doesn't love a little present via snail mail?
I was partnered with Penny over at
The Real Housewife of Caroline County
and I knew she had to be really cool because I love her blog's name. (Yes, I watch Real Housewives shows!)
Penny is so nice, you must click over and check out her blog! She is a stay at home mom like myself and she has the cutest little girls! She has great taste in nail polish because I am in love with my color!
We got to know each other better and we seem to have the same taste in nail polish! Along with the polish, she sent me a really sweet card too! It was a great mail day over here!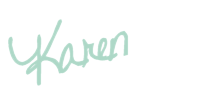 Keep Up With Karen's Soiree